Looks like the pressure's on Barney.
A new Fox News/Opinion Dynamics poll conducted October 10-11 finds that nearly three in four Americans (73 percent) agree that U.S. troops should start to come home.

The Fox News poll asked Americans if they agreed or disagreed with this statement: "The United States has sacrificed enough for the people of Iraq, and now it is time that they take on most of the burden of their security in their country and let U.S. troops to start to come home."

A strong majority of Americans of all ideological stripes agree with this statement — which is similar to the argument the Center for American Progress makes in the Strategic Redeployment plan released last September — that American troops have done their share, and it is time for Iraqis to take responsibility for their own affairs.

"Dude, we need to talk."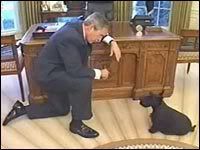 from
Think Progress
.