The Mod Squad
Pete, Julie, and Dink.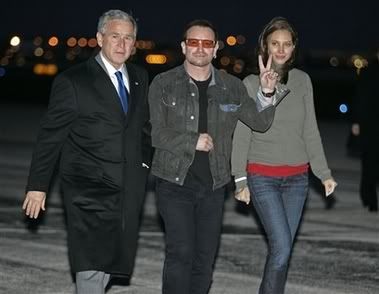 AP/Charles Dharapak
When Bush arrived in Marine One at Chicago's O'Hare International Airport, he was greeted by rock star Bono, model Christy Turlington and Bobby Shriver, who runs an organization called DATA -- or Debt, AIDS and Trade in Africa. The three were in Chicago to attend an AIDS event.

Turlington and Bono, who has been active in raising awareness of poverty and AIDS, climbed the stairs of Air Force One with the president. Bono flashed a peace sign before the group went in the plane for a 10-minute conversation with Bush about AIDS. The three visitors left the plane before it took off for Washington.
more
here
.
[h/t reader Sari]