National Character Counts?
He can't make it past 11.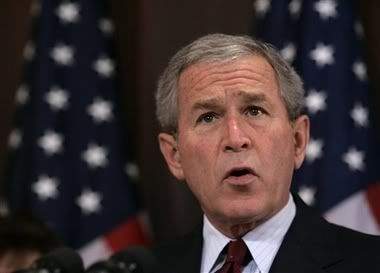 AP/Charles Dharapak
NOW, THEREFORE, I, GEORGE W. BUSH, President of the United States of America, by virtue of the authority vested in me by the Constitution and laws of the United States, do hereby proclaim October 15 through October 21, 2006, as National Character Counts Week. I call upon public officials, educators, librarians, parents, students, and all Americans to observe this week with appropriate ceremonies, activities, and programs.
THIS is what he's spending his time on. That Pinochet II Act that Congress rushed through, destroying the Bill of Rights in the process? Still unsigned. The Not-Invisible, Halliburton-Built Mexican Fence Act? Still unsigned.
Glad to know Congress will jump off that bridge when Bush says to.