"Nobody thinks my suits
are beautiful. Stoopit reporters."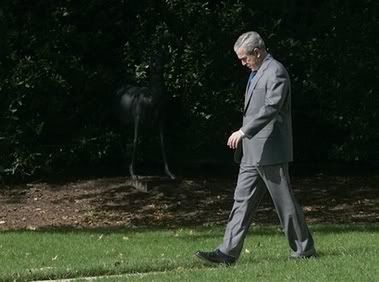 AP/Ron Edmonds
President Bush needed to change the subject.

"If I might say, that is a beautiful suit," he told NBC News correspondent Kevin Corke at yesterday's news conference in the Rose Garden.

"My tailor appreciates that," replied Corke, wearing a $1,500 custom pinstripe number by Tom James with bright-red tie and pocket square.

"And I can't see anybody else who even comes close," Bush added, drawing laughs from the assembled scribes in wrinkled navy blazers.
more teh questionable Preznitial gayitude
here
.