Oh, my.
First there's
this
:
(CBS) An overwhelming majority of Americans think House Republican leaders put their own political interests ahead of the safety of congressional pages in their handling of the Mark Foley scandal, according to a CBS News/New York Times poll.

Seventy-nine percent of those polled — including 61 percent of Republicans — say GOP leaders were more concerned with politics than the well-being of the teenage pages.

Sixty-two percent think the Republican leadership was aware of the sexually explicit e-mails sent by former Rep. Foley before the public learned about them in late September — a charge many top Republicans deny. Two-thirds of Americans say GOP leaders did not take the matter seriously enough when they first learned about it.
And then there's
this
:
A new poll just revealed by CNN indicates that Republicans will have an uphill battle ahead of them in the 29 days before the midterm elections.

With 52% indicating they believe there was a deliberate cover-up of the Foley affair and an equal number reporting they believe Speaker of the House Dennis Hastert (R-IL) should resign, more Democrats are indicating that they are enthusiastic about voting than Republicans.

Most astonishing, however, is that while 58% of Democrats consider themselves likely to vote, just 44% of Republicans see themselves heading to the polls this November.

In all, the news agency is reporting that the Democratic lead among likely voters has nearly doubled--from 11 to 21 points in the last week.
And did I mention
this
?
For the first time since 2001, the NEWSWEEK poll shows that more Americans trust the Democrats than the GOP on moral values and the war on terror. Fully 53 percent of Americans want the Democrats to win control of Congress next month, including 10 percent of Republicans, compared to just 35 percent who want the GOP to retain power. If the election were held today, 51 percent of likely voters would vote for the Democrat in their district versus 39 percent who would vote for the Republican. And while the race is closer among male voters (46 percent for the Democrats vs. 42 percent for the Republicans), the Democrats lead among women voters 56 to 34 percent.
. . .
Meanwhile, the president's approval rating has fallen to a new all-time low for the Newsweek poll: 33 percent, down from an already anemic 36 percent in August. Only 25 percent of Americans are satisfied with the direction of the country, while 67 percent say they are not.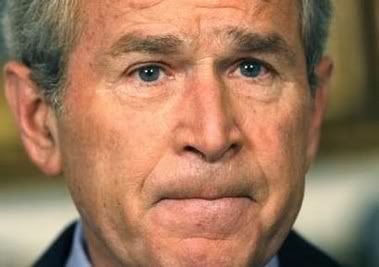 REUTERS/Kevin Lamarque