Oh, they're not even trying anymore.
WASHINGTON (AP) - The White House said Friday that Vice President Dick Cheney was not talking about a torture technique known as "water boarding" when he said dunking terrorism suspects in water during questioning was a "no-brainer."
...

In an interview Tuesday with WDAY of Fargo, N.D., Cheney was asked if "a dunk in water is a no-brainer if it can save lives."
...

The administration has repeatedly refused to say which techniques they believe are permitted under the new law. Asked to define a dunk in water, Snow said, "It's a dunk in the water."
"I'm late! I'm late! For a very important date!"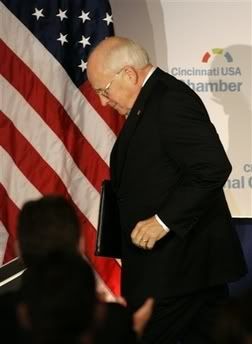 AP/Al Behrman
Waterboarding. It's a fucking tea party.
More lameass semantics game playing
here
.