Vive la resistance!
Likening the times to the late 1930s as Nazi Germany was rising to power, Sen. Rick Santorum said last night that if he loses his re-election bid, it could set the stage for terrorism to become more of a threat than the Nazis ever were.

"If we are not successful here and things don't go right in the election, there's a good chance that the course of our country could change," he said. "We are in the equivalent of the late 1930s, and this election will decide whether we are going to continue to appease or whether we will stand and fight while we have a chance to win without devastating consequences.

"And you here in Pennsylvania — you here in this room — will have a huge role to play as to what happens."
I'm not really that interested in his moveable parts.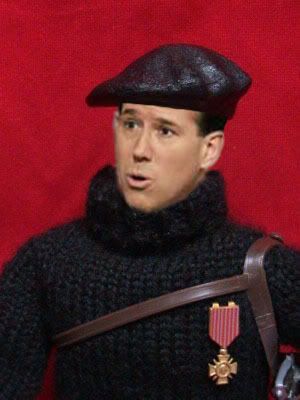 more delusional double-speak
here
.