Good thing Bush doesn't pay attention
to "focus groups":
An MSNBC online poll shows that the overwhelming majority of its participating voters believe President Bush should be impeached.

The poll asked the question, "Do you believe President Bush's actions justify impeachment?" Four choices were presented:

• "Yes, between the secret spying, the deceptions leading to war and more, there is plenty to justify putting him on trial."

• "No, like any president, he has made a few missteps, but nothing approaching 'high crimes and misdemeanors.'"

• "No, the man has done absolutely nothing wrong. Impeachment would just be a political lynching."

• "I don't know."

Of nearly 360,000 people who had voted in the "unscientific" poll by 9:30PM Eastern on Friday evening, 87 percent responded "Yes."
"Well, fuck me."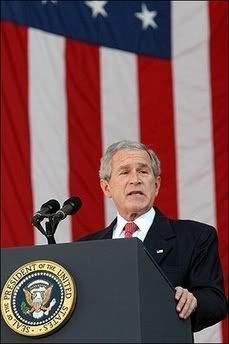 AFP/Nicholas Kamm
more
here
.