It's Joe Isuzu!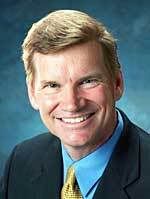 Ted Haggard, one of the most prominent and politically powerful evangelical pastors in the country, resigned today as president of the 30-million-member National Association of Evangelicals "amid allegations that he carried on a three-year sexual relationship with a male prostitute." The AP reports:

Haggard…also stepped down as senior pastor at his 14,000-member New Life Church pending an investigation by a church panel, saying he could "not continue to minister under the cloud created by the accusations."

"I am voluntarily stepping aside from leadership so that the overseer process can be allowed to proceed with integrity," Haggard said in a written statement. "I hope to be able to discuss this matter in more detail at a later date. In the interim, I will seek both spiritual advice and guidance."
I'm not even going to try to psychoanalyze this latest example of Republican "do as I say, not as I do", but what's really funny is that this guy is a close adviser to the Preznit. Hee hee!
more
here
.